At ZipHealthy, we are committed to serving our patients. In line with our vision, mission, and goals, we believe everyone should be able to access confidential, evidence-based, affordable, mental healthcare. We couldn't be happier than serving our clients out of our Northwest Arkansas (NWA) locale.
Often, patients, critical stakeholders in the community, and the general public ask us what the difference is between the different behavioral health-related professions. All the behavioral health-related professions help patients through different lenses and from different perspectives. Generally, we call this a scope of practice, defined by education as well as regulators (federal, state, etc…).
Professional Counselors
Professional counselors are also called licensed professional counselors or LPCs. LPCs earn a master's degree and frequently complete their training within two academic years. The terminal level, or highest possible degree, for independently practicing as an LPC is a master's degree. This training is not the same as one would receive in doctoral training programs in counseling psychology to become a counseling psychologist. Also, a Ph.D. in counseling does not make one more proficient at counseling or make them a counseling psychologist.
Professional counseling primarily encompasses counseling and doesn't typically focus on conducting research or psychological testing. Understandably, LPC education doesn't usually, if at all, focus on those topics, focusing instead on providing services to clients. LPC's serve a wide variety of clients in community agencies (Cohen-Filipic, 2015; Norcross & Sayette, 2016), and private practice. More often, they specialize in career, addiction, college, career, and couple/family counseling. States have some version of LPC, but the name might differ (Cohen-Filipic, 2015).
School Psychologists
School psychologists typically deliver services in schools, but some may work in other settings such as older-living or correctional facilities. Their scope of practice mainly encompasses enhancing the intellectual, emotional, social, and developmental aspects of students. Frequently, they conduct psychological testing (especially intelligence and achievement tests) to determine diagnoses such as learning disorders, ADD, and ADHD. They use or develop programs designed to meet the educational and emotional needs of students. They also consult with individuals involved in students' lives—teachers, school administrators, school staff, parents, key stakeholders—and to a limited degree in direct counseling with students (Albers & Felt, 2015).
Clinical Social Workers
There are many levels of social workers that correspond with different fields and different levels of education. We'll focus on Clinical Social Workers. Historically, social workers have focused their work on the interaction between an individual and the components of society that may contribute to or alleviate the individual's problems. Numerous theories about culture, issues, and people run through Social Work. "Informing disciplines" such as sociology, psychology, political science, and anthropology refresh Social Work theory and research methodology (Chenoweth & McAuliffe, 2015). Social work theories of psychopathology and therapy emphasize social, behavioral, cognitive, emotional, physiological, and environmental factors. They also assist their clients by delivering psychotherapy and, if necessary, connecting them with social services.
Social Workers are more likely than their counterparts in psychology, counseling, or psychiatry, to get into the "details" of their clients' worlds by touching on their homes or workplaces, or by making contacts on their behalf with organizations that might prove beneficial.
When they work together with psychologists and psychiatrists (e.g., in hospitals), they usually focus on delivering psychotherapy and arranging for clients to transition successfully to the community.
The training of clinical social workers encompasses earning a master's degree rather than a doctorate, and training includes a strong emphasis on supervised fieldwork. The terminal level of practice is at the graduate level. Their education typically includes little on research methods and psychological testing.
Clinical Psychologists
Clinical psychologists are primarily engaged in psychotherapy, research, and psychological testing (Norcross & Karpiak, 2012). They focus on the study of mental and behavior processes and their application to the evaluation and treatment of a mental disorder. Clinical Psychologists training typically focuses on conducting research and psychological testing. A long time ago, Clinical Psychologists spent a good bit of time on seriously disturbed individuals. However, that has shifted, and Psychologists spend a good deal of time with a wide range of patients. Clinical psychologists view clients' problems as behavioral, cognitive, emotional—still stemming from brain activity, of course, but amenable to change via nonpharmacological methods.
Clinical Psychologists in the United States typically earn a Ph.D. or Psy.D. However, in other parts of the world, they earn a graduate degree and still call themselves "Psychologist;" for example, this is the case in some European countries.
Counseling Psychologists
In the past, Counseling Psychologists were more likely to work with ("counsel") less pathological clients. But today, counseling psychologists see the same types of clients as other disciplines, sometimes as colleagues working side by side. Clinical Psychologists and Counseling Psychologists are also similar in that their graduate students occupy the same internship sites, often earn the same degree (the Ph.D.), and obtain the same licensure status (Norcross, 2000).
Some differences in theoretical orientation are also evident between counseling and clinical psychologists. Both professions endorse the eclectic orientation more than any other, but clinical psychologists tend to support behaviorism more strongly, and counseling psychologists tend to endorse humanistic/client-centered approaches more strongly. Additionally, counseling psychologists tend to be more interested in vocational testing and career counseling, whereas clinical psychologists tend to be more interested in applications of psychology to medical settings (Banyasz & Baker, 2015; Norcross & Sayette, 2016).
Psychiatrists
Unlike clinical (or counseling) psychologists, clinical social workers, or counselors', psychiatrists go to medical school and are licensed as physicians. (In fact, their specialized training in psychiatry doesn't begin until well into their training; the first several years are often identical to that of other types of physicians.) As physicians, they are allowed to prescribe medication.
Until recently, psychologists, clinical social workers, and counselors could not prescribe medication, but psychologists, clinical social workers, and counselors have rallied in recent years to obtain prescription privileges. They have earned essential victories in a small number of states.
The difference between psychiatrists and clinical psychologists, clinical social workers, and counselors is more than just the ability to prescribe medication.
The professions fundamentally differ in their understanding of and approach to behavioral or emotional problems. Psychiatrists' training emphasizes biology to such an extent that disorders—depression, anxiety disorders, attention-deficit/hyperactivity disorder (ADHD), borderline personality disorder, and so on—are viewed first and foremost as physiological abnormalities of the brain. So, to fix the problem, psychiatrists tend to fix the brain by prescribing medication (Noll, 2015). This is not to imply that psychiatrists don't respect "talking cures," such as psychotherapy or counseling, but they favor medication more than they used to (Harris, 2011; Manninen, 2006).
Differences as they relate to Clinical Social Work: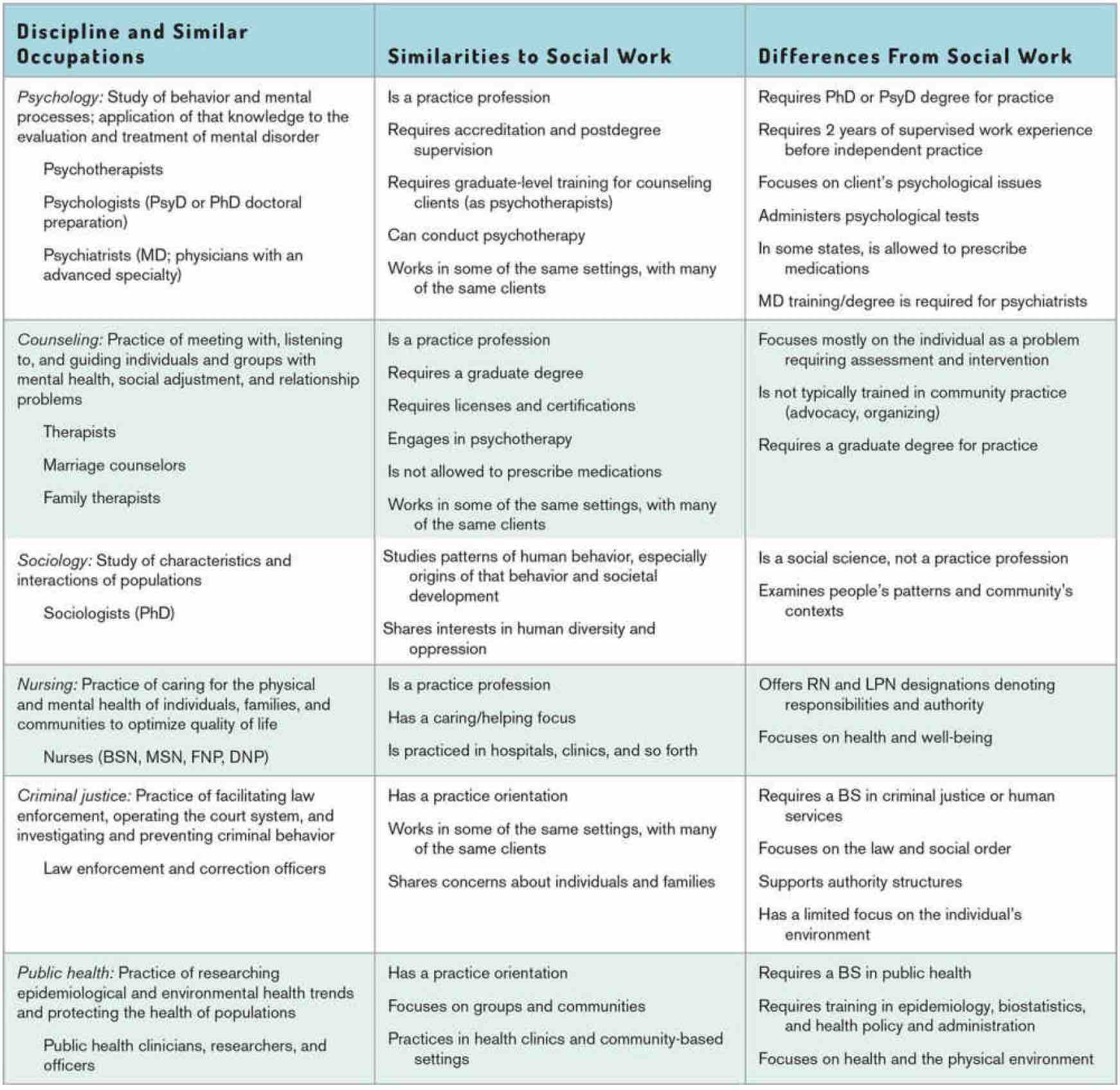 ZipHealthy offers affordable, confidential, and easily accessible care during hours that work for you. We're your connection to a healthier state of mind. Sign up today and start on your path to being your best!
Share this Post: